Breed information.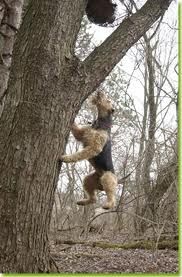 The Airedale Terrier, or the "King of Terriers", is a relatively young breed in comparison to many other breeds of dogs, with its origins being traced back to a little over 150 years ago. The Airedale Terrier was developed by the workingmen from the Aire valley of Yorkshire in England. These men spent time hunting along the river valleys of the area and wanted a dog that could run with the hunters, was obedient to their masters,courageous and versatile and then return home at night as a companion to their families.
It is generally accepted that the dogs produced by breeding the Black and Tan Terrier and the Otter hound, provided the Airedale's size and bone.
Over the years many have speculated to what breeds dominated in the development of the Airedale Terrier. The breed has been recognised as one which improved faster than almost any other breed with the result being a black and tan, long legged, game dog with a broken coat. In the early days of the breed it ranged in size from fifteen to twenty-four inches, and weighed between thirty and eighty pounds (13 to 36kgs).
By the 1920's the number of breeders had gradually grown and the first Airedale Championship Show was held in 1931 in Victoria with the breed reaching its height in popularity in the 1950's. The centenary of the breed was celebrated in Australia in 1976.
Purpose
The Airedale Terrier is recognised as a versatile dog, bred to work independently, and known to be used as a working dog, a hunter, retriever, and reliable messenger during war times. It is also known for its use in guard and schutzhund work, search and rescue amongst many other attributes. Airedales also exhibit some herding characteristics having no problem working with cattle and livestock. Strong-willed, with the tenacity commonly seen in terriers, the Airedale is a formidable opponent.
The Airedale developed his ability to protect and guard by being devoted to his owner and his family. They are very loving, always in the middle of the family activities with some fanciers claiming that the Airedale is the only breed that has the ability to babysit young children. Thus, the Airedale we have today is as much at home hunting vermin and larger game, as he is being a police dog, or a never tiring playmate and family companion. Airedale Terriers are not known to be greedy eaters, but do require a nutritious meal to support their growth and maintain the dog's substance.